With any business transaction, it is customary to sign a contract so that all parties involved are on the same page, but having to keep up with all that paperwork can be frustrating. Using the PhotoBiz Forms tool makes creating, sending and managing your contracts easy by keeping everything digital so your contracts are accessible from anywhere.
To create a contract, click on the Forms icon, then click on Form Builder.
From there, click on New and then Basic. 
After your new form is created, you can customize it to fit your needs. Click here to see the full example contract.
In the example contract, the first section is for general information collection. In the Client Information section, the following fields were used from the contact fields section: full name, address, email, phone, and facebook. In the Wedding Information section, the following fields were used from the standard fields section: date, text box (for "Ceremony Location" and "Reception Location"), and time.
Click here for a description of all available form fields.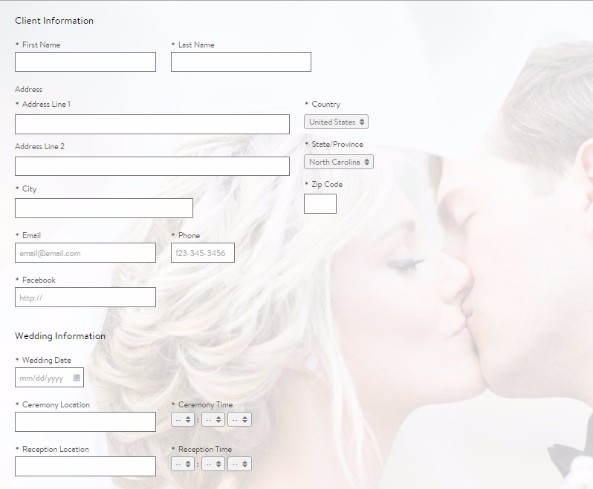 After the two information sections is the text of the contract. You can create this using the editor field available in the standard fields section of your form builder. Click on the field to add it to the builder, then click on Click to add text and you can enter and format your text in the box provided.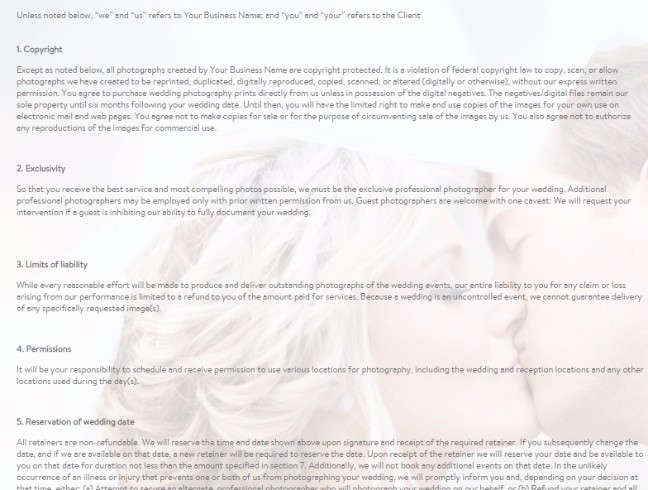 At the end of the contract, make sure to include a date field as well as a section for electronic signatures. 
Scroll down to the bottom of the page and open the section labeled file upload, payments & more and click on the signature element.

Below is an example of what the signature field may look like on your form. Your client will type their name into the box and it will be entered in what will look like a signature.