You have complete control over the individual print sizes you sell online with your Ecommerce. From the Ecommerce control panel, mouse over sell online and select prints.
To begin adding your prints, click the new print size button.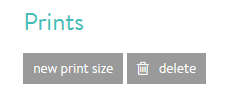 You will be prompted to type out your print size and price. The print size is a label for what your store visitors will see. Here you can also set the print size as active or inactive (not available for purchase) and add an additional shipping price (for example a large print size might require extra shipping).

Click the add print size button to save your changes. You can repeat these steps to add additional print sizes.
Tip: You can quickly return to your list of print sizes and add additional print sizes by clicking on the print sizes bread crumb.