A gallery page is perfect for showing off your images on your Portfolio Site. 
To add a new gallery page to your website, start by clicking on the Portfolio Site icon at the top of your control panel and click on the Web Pages tab. 
Next, click on new page and select gallery page. This page will be added to the bottom of your list of pages as "Extra Gallery". You can drag and drop the page using the Extra Gallery button to place it where you'd like it to appear in your menu.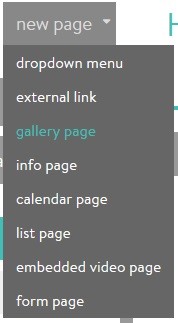 Note: If you have multiple gallery pages, we recommend creating a dropdown menu page called "Galleries" or "Portfolio" and nesting all your gallery pages beneath that. For assistance on setting up a dropdown menu, click here.
When your new page is positioned where you'd like it to be in the menu, you can start setting up your page. You will see multiple tabs to help you with adjusting the different settings of your gallery page.

Images: This is where you will add the images you'd like to appear on this gallery page. Use the upload or clipboard button to add your images either from your computer or from your clipboard, respectively. 
Music: This is an optional feature that will allow you to add up to three music selections to this gallery page. 
Slideshow: This section allows you to set certain settings for your gallery page: autoplay slideshow, display slideshow controls, transition and speed.
Page Details: This is where you have the option to rename your page, as well as control the page visibility and access the direct page link.
Layout: In this section, you can choose what layout you'd like to use on this page. There are a variety of layouts, including two classic slideshow layouts (with and without thumbnails) and multiple modern grid style layouts (flush 3, pinboard flush and square flush).
SEO: This section allows you to add page-specific SEO information.
Note: Do not copy and paste the same title, description, and keywords for each page. This is considered duplicate content.
When you've completed your page and you're ready to apply the changes to your live website, make sure to go to publish and click on publish now.