Marketing campaigns allow you to segment your contacts into different groups so you can target specific types of customers or potential customers. When selecting contacts to send a campaign to, you have three options: all contacts, by type, and by tag.
To start, navigate to the campaign you'd like to send under the campaign builder portion of your marketing tool. Click on the name of the campaign, then click on the send button at the top right of the page.

All contacts will select all the contacts entries in your list. This will include all contacts created from submitting any of your forms, ordering from your e-commerce, or contacts you added manually to your Contacts tool.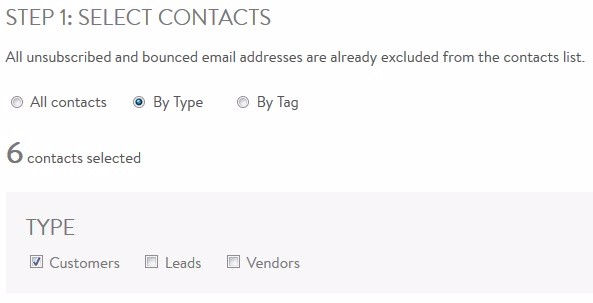 If you choose to select contacts by type, you will choose either customers, leads, or vendors, or any combination of the three. Contacts are designated as customers if they order from your e-commerce. Contacts are designated leads if they submit a form. Contacts are designated vendors if you create them with that designation (or edit an existing contact to give it that designation).
You can change any contact's type in your Contacts tool. Click here to learn how to edit a contact.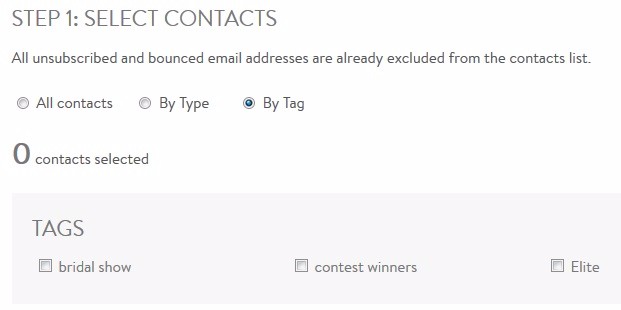 Finally, you can choose to select contacts by tag. Tags can be added to a contact entry manually, or automatically applied to a contact if they submit a form that has been tagged by you in theForm tool. When you select by tag, you will see a list of your tags and be able to choose one or many of your tags by clicking the check box to the left of a tag.
Click here to learn more about tagging forms, and click here to learn about tagging contacts.
For the full instructions on sending a campagin, click here.