Our custom Forms tool allows you to accept payment from your customers when they are completing the form. This is a great tool to use to create custom order forms, register for events, take session deposits, accept donations, and more! 
Follow the steps below to learn how to set this up.
STEP 1: ADD A PAYMENT FIELD TO YOUR FORM
Click on the FORMS tool in your Control Panel and either create a form or navigate to the form you'd like to add a payment option to. In your form, open the MISCELLANEOUS section option and select PAYMENT.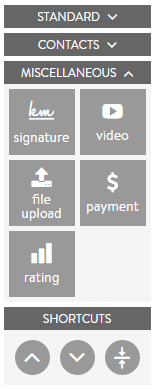 STEP 2: SELECT YOUR MERCHANT(S)
After the PAYMENT field is added, click on SETUP INCOMPLETE and you will be prompted to enter your payment settings.
The first time you use this feature, you will see a button under Price that reads SET UP YOUR MERCHANT. Click on that and you will be brought to your E-COMMERCE tool.
If you already have a merchant added to your E-Commerce, just click on the method you'd like to accept on your form and check the box for FORMS under ACTIVE FOR as shown below.
STEP 3: ADD YOUR PRICE AND SETTINGS
After your merchant has been set up, click on the FORMS icon again and you will be brought back to the Payment field settings page. Now, you can enter a price and turn taxes and shipping on or off.
Note: If you have different options for your clients to choose from in their form that will determine your price, set this base price to $0.00 and include your priced options as a CHECKBOX or RADIO SELECT form fields using the ADVANCED features.
STEP 4: (OPTIONAL) ADD DIGITAL DOWNLOAD ITEM
In addition to the price, you can also add a digital download that will be accessible to clients after they pay. To use this feature, you'll need a direct link to the file you'd like your clients to download. Click here for help with obtaining a direct link to a file.
In the field labeled DOWNLOAD LINK LABEL, enter the text you'd like clients to see and click on to start their download.
Paste your file's link into the field labeled URL.
Lastly, select the NUMBER OF DAYS DOWNLOAD IS AVAILABLE and MAXIMUM DOWNLOADS PER ORDER.
Make sure to click on SAVE CHANGES when you've entered in all your information.
When the setup of your payment field is complete, the field will look like this in your form builder: