The PhotoBiz Ecommerce tools allow you to easily view and search orders from both your Ecommerce and Contacts control panels.
From Ecommerce, mouse over Tracking, and select Orders. You have the ability to search for your orders by multiple attributes.
Time Frame: Last 6 months, This Month, This Year, Custom Date
Customer: Last and first name
Order Number
Payment Status: Paid or Pending
Order Status: If you have custom order statuses set up, you can also search by order status and select them from an additional drop down menu
When searching by the different parameters, you can also choose how many orders will display per page (e.g., 25, 50, 100).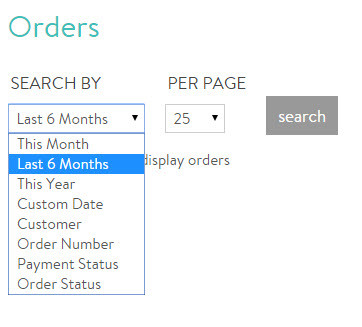 After making your selection using the Search By drop down menu and conditional fields, click on the Search button to show your results. 
To view details of a specific order you can click on the Order Number. The Detail tab shows you the complete order information, including payment status, and customer email. The Status History will detail any status change made after the order has been submitted (such as when it switched from Pending to Paid).
You can also view orders from the customer level using the Contacts control panel. Select a customer, click the Ecommerce tab and the Orders report for the specific customer will load. You can again click on the Order Number to see specific details on that order.