With your Client Relationship Builder, you have the option to edit your settings within the form. To start, choose the form icon in your control panel, then click on form editor and select the form you'd like to update by clicking on the name of the form in the list.
Choose the gear icon to the top right and select the option for settings from the drop down menu.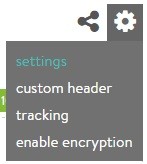 You have the ability to create and edit a Thank you message that will appear after a client submits a form. You can choose to have the message emailed after a client submits a form submission by choosing the yes option at the bottom of the page. You will need to save changes after making any edits to the message. The thank you message is also a great place to add additional information to clients that you want them to receive automatically after completing the form. Having that information sent to them automatically via email is a great way to simplify your workflow.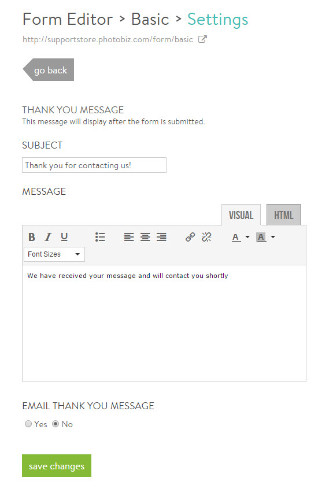 You also have the ability to choose which email you want your form submissions to go to by clicking on email notification. You can include multiple emails here, separated with a comma.
The custom confirmation page url allows you to choose where clients can be redirected after they submit the form. This is optional so if left blank, clients will remain on the form page. A great way to use this feature is if you're setting up an incentive for customers to join your email list, such as providing them with a free informational PDF.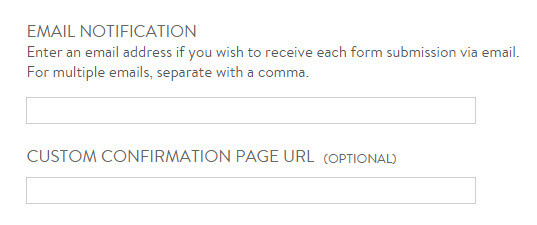 If you make any changes to the email notification or custom confirmation page url, make sure to click on save changes at the bottom of the page to ensure your changes are applied.