The footer section of your Portfolio Site controls the small line of text in the very bottom portion of your website. This is typically where copyright information is displayed, but you can add any information you'd like in your footer, including your phone number, email, or address.
To access your Footer, first click on the Portfolio icon at the top of your control panel then click on the web pages tab. At the very bottom of the web pages section on the left side of the page you will see a button for footer.

After you click on the footer button, you will be provided with a field where you can add your footer information. Keep in mind there is a limit of 100 characters.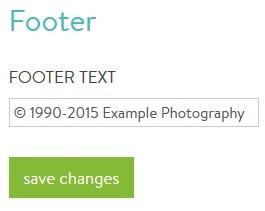 When creating your footer text, you can add the copyright symbol (©) (on a PC) by holding down the ALT button while you press 0169 then release the ALT button, or (on a Mac) by holding down the Option button and pressing G. 
Also, we recommend either including the current year (create a reminder for yourself to update this every January 1) or including the year you began your business and the current year, as in the example above. We do not recommend only including the year your business began (ie, © 2003 Example Photography), because it makes it look like you haven't updated your website since 2003.
When you've completed your footer and you're ready to apply the changes to your live website, make sure to go to publish and click on publish now.
Below is an example of what your footer could look like on your Portfolio Site: