Submitting your sitemap to Google is a great way to let Google know you've just made some updates to your site and you want their "crawlers" to take a look at your new information. You don't need to resubmit a sitemap every time you change something, but it is good practice to submit your sitemap anytime you've made any major changes to your website.
Follow the steps below to learn how to submit your sitemap to Google using Google Search Console.
STEP 1: VERIFY YOUR DOMAIN
STEP 2: SUBMIT YOUR SITEMAP
After you've verified your domain, click on SITEMAPS in the menu on the left-hand side of your Google Search Console account.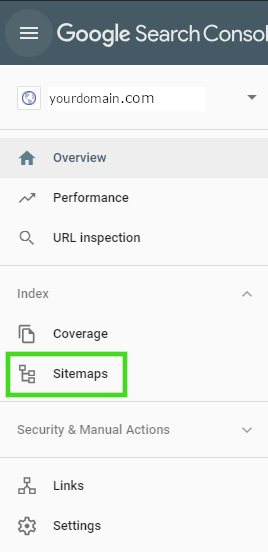 From there, enter your domain name with the HTTP:// or HTTPS:// prefix. (If your site is SSL enabled, the prefix will be HTTPS://). At the end of your domain name, add /sitemap.cfm and click the SUBMIT button.



When your sitemap has been successfully submitted, you will receive the following confirmation screen:



PRO TIP:
If you prefer to have our Google certified experts set this up for you, you can purchase our SEO GO SERVICE and we'll make sure your website is optimized for best results with Google and submit your sitemap for you.