Update the name for your website and publish your sitemap under the TRACKING tab in your control panel.
To access your sitemap, click the gear icon under TRACKING.
You can view your sitemap link and the date your sitemap was last published under SITEMAP.
To publish your sitemap, click publish sitemap.

To access your site name, click the gear icon under TRACKING.
Update your site name under AUTO SEO. The site name will display on your individual web pages and in the browser tab of your website.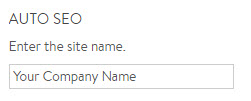 After you have updated your site name, scroll down and click save changes.
Publish your sitemap whenever you make major changes to your website, including: launching your website, updating your SEO, editing page names, adding new pages, or deleting pages. You do not need to publish your sitemap after minor changes, such as adding or removing text and images.
Note: It can take 30-90 days for your changes to take effect within search engines. Publishing your sitemap will decrease the amount of time it takes for search engines to recognize your updates.