Yes! After your Blog post is published, you have the ability to quickly and easily share the post on social media or through email. 
First, make sure you publish your blog post. Once the post is published, click on the share button toward the top right of the page.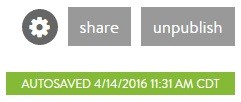 When you click on share, you'll see the direct link to your blog post as well as the five ways you can share it: Email, Facebook, Twitter, Google+, and Pinterest. 
Click on the icon that represents the site where you'd like to share your post and you'll be redirected to their website to complete the sharing process.

If you select the email option, instead of being redirected, you'll be prompted to enter an email address to send it to, as well as a subject and message. Once those items have been filled in, click on send.