If your blog is one that contains posts on many categories (for example, a photography blog on engagement, wedding, and family photography), you may want to separate the different categories for your viewers in addition to your main blog page that displays all your posts.
An example of a blog using this structure can be seen below: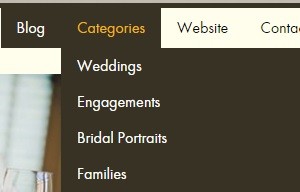 On this website, the photographer's main blog page contains all her posts, and the Categories section allows her viewers to jump to posts of a particular subject.
To create categories on your blog, you'll need to tag your blog posts with the appropriate category. Click here for instructions on how to tag your blog post.
To create the pages, access your Builder tool and add a new Blog page using the new page button in your web pages section.
On that blog page, scroll down to the section labeled Blog and choose the option Display all posts tagged with: and in the box provided, begin typing one of your categories and click on the tag when it appears. After you've selected the tag, click on add tag to the right of the box.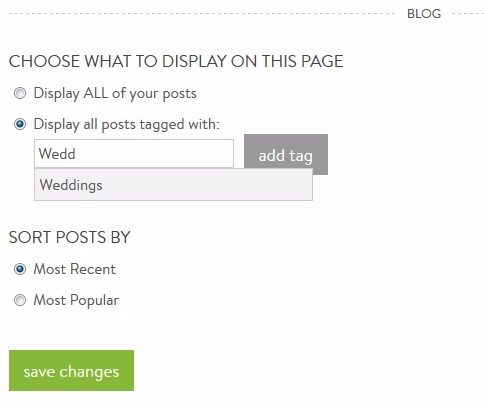 Click on save changes to apply this setting.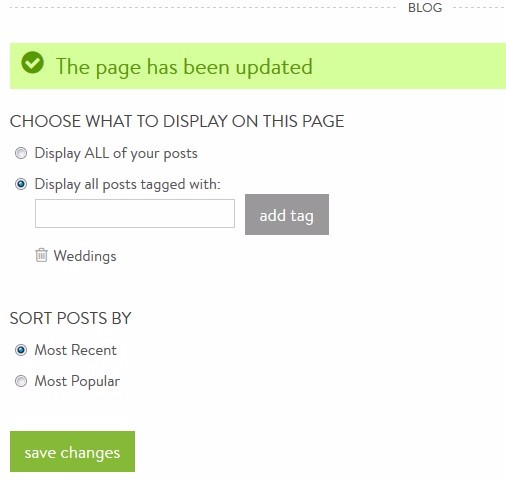 Repeat this process for each category you'd like to add. You can also create a drop down menu for "Categories" and drop all your new blog pages into that section.
Click here to learn more about how to use drop down menus.
If you'd like more information on your options in setting up a blog page, click here.