Pinterest is a great tool to use for creative businesses, since it is a social media outlet that is extremely visual, but also provides lots of opportunities for links back to your website. A very important part of your Pinterest profile if you have a business is your website link. In order for this link to work properly, you need to confirm your website with Pinterest.
To verify your PhotoBiz site in your Pinterest account, you will need to add a meta tag from Pinterest to your website. To start, log into Pinterest and access your account settings. From there, you can enter your Website and click on confirm website.

A pop up will appear with the meta tag. Copy the meta tag provided, then access your PhotoBiz account.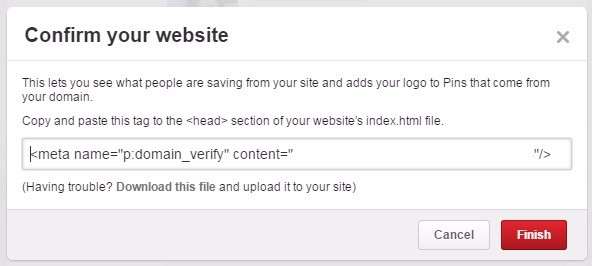 Note: You will need to keep the current Pinterest page open as well, so make sure to open PhotoBiz in a new tab or window.
In your PhotoBiz account, click on the Portfolio or Builder icon. From there, follow the steps in this article on how to add a verfication code to your account.
After the verfication code is added, go back to Pinterest and click on the Finish button. This allows Pinterest to check for the meta tag and verify your website.
If you'd like more hands-on support with SEO, you can call our Support Team with specific questions.
We also offer our SEO ENGAGEMENT AND SEO KICKSTART services if you want us to do it for you.