A list page is a great way to display lots of information in an organized fashion. List pages are typically used for testimonials/raves pages, services, and resources/links pages. Once your list page has been created, you'll need to add the content to your page by adding list items for each individual piece of information. 
First, access your list page by going to either Portfolio or Builder, then clicking on web pages and then the name of your list page. If you are using the Site Builder, you can also add list items to a Marquee Plus/Home page.
In the list items section of your page, click on new item.
After that, a form will come up where you can enter the title, description and link to a web page.
In the link to a web page section, you have the following options:
None: If you do not need to provide a link for this item, ie for a testimonial.
Provide an external website address: Use this type of link to direct your viewer to an outside website. This is most commonly used on a Resources or Links page to direct your viewer to other websites. We recommend setting this link to open in a new window.
Chose from my list of pages (only if you are in the Site Builder): This will allow you to direct your clients to a certain page within your website. This is most commonly used on a marquee plus page to direct clients deeper into your website.
Embedded Link: This will allow a pop up light box window to appear on your website. To utilize this feature, you will need an HTML embed code. This feature is typically used to embed an external form or video.
When this information is completed, click on create item and another section will appear where you can add an image to this list item if you'd like to. You can click upload to upload an image from your computer or click on clipboard to insert an image you have on your clipboard already.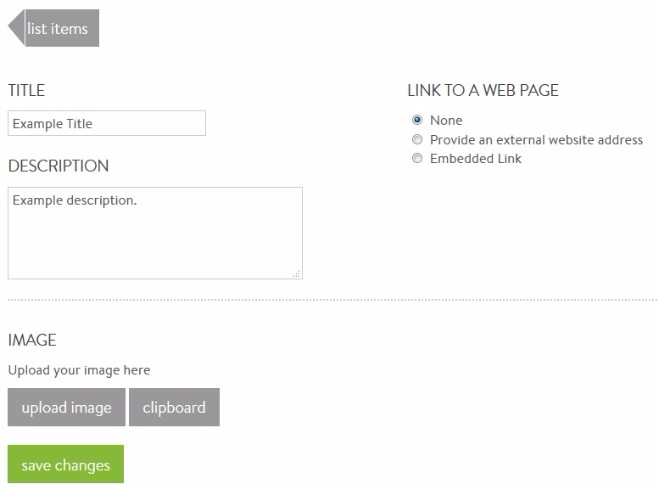 After this information is all entered, make sure to click on save changes. If you are using a Portfolio Site make sure to go to publish and click on publish now to make your changes live.