You can update your credit card on file two (2) different ways.  You can log into your PhotoBiz account from our account login page or by downloading the free PhotoBiz To Go app (Apple and Android devices). 
Update Your Credit Card from your PhotoBiz Account Online
To update the credit card on your account, click on the menu icon at the top right corner of the control panel and click on Account, then mouse over Account Details, and select Payment Method.
You can then type out the name on the card and card number, select the expiration date, and click Update Information.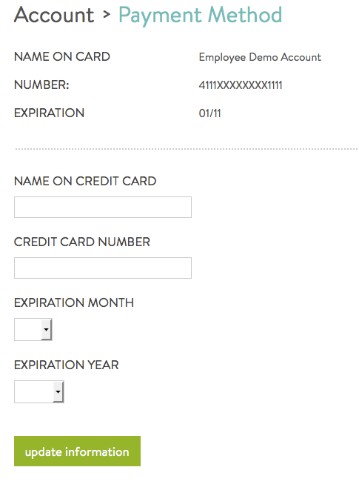 The payment method is used for your monthly membership fee. You can also enter your password to charge the card on file for additional purchases within your account including products, services, and file space.
Note: You can also update your password from this section of your account. Please type it twice and they must match. 
Update With PhotoBiz To Go App

1.  Download and install the PhotoBiz To Go app on your device
Apple Devices: PhotoBiz To Go on iTunes

Android Devices:  PhotoBiz To Go on Google Play
2.  Log into your PhotoBiz account in the app
3.  Tap on My Account
4.  Tap on the Payment Info button on the bottom right side of your screen
5.  Tap on the Edit Credit Card option at the bottom of your screen
6.  Enter Name On Card, Number, & Expiration
7.  Tap on the SAVE button