The Page Settings block allow you to change the navigation name, control the page visibility, and add a password to the page.
Within the page settings, you can adjust the navigation name and set your page to visible, hidden, or disabled.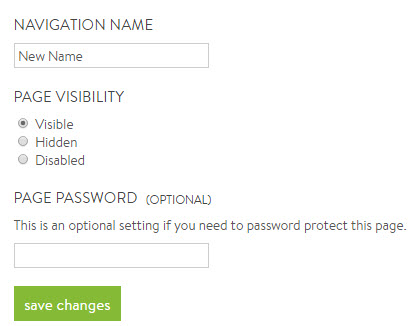 NAVIGATION NAME
Update the Navigation Name to change the page name as it displays in your menu.
VISIBLE
Visible is the default setting for each page added to your website. A visible page is accessible both in the menu and with the direct page URL.
HIDDEN
Hidden pages allow you to control who has access to the page, as a hidden page is only accessible via the direct page URL. A page that is hidden is not accessible through the menu, so you will have to provide users with the direct page URL in order for them to view the page. You can find the direct page URL in the page details section as well as under the title of the page in your control panel. 
Note: Drop-down menus and external link pages cannot be password protected. 
DISABLED
Disabled pages render the page completely inaccessible. The page will not appear in the menu and it also will not be accessible with the direct page URL. The only way to access information on a disabled page is through your control panel.
Save changes when you are done.