Creating coupons to provide to your clients can be achieved in your ecommerce control panel. To begin mouse over payment and click coupons.
Click the new coupon button.
You have the choice between percentage discounts, dollar discounts, and buy one get one discounts in combination with discounts being applied to total order, a single item, or a group of items.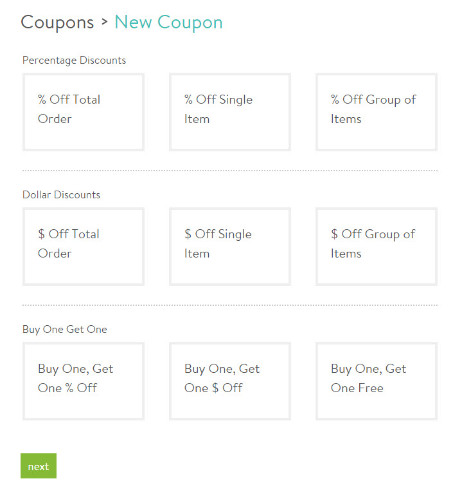 Select a discount type, and click next. Now you can enter specifics for the coupon.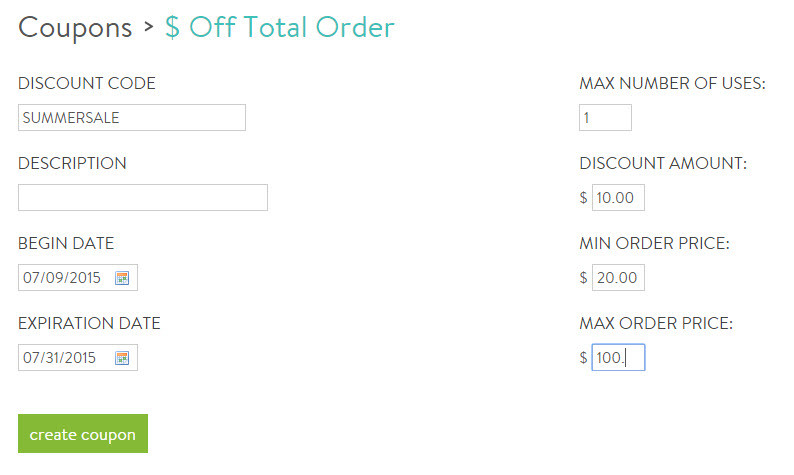 When choosing a dollar or percentage off a total order, you are prompted to enter in the following:
Discount Code: Actual coupon code that you will distribute to your customer. They will type this in when they check out. Note: You can only use one coupon code per order. 
Description: Internally description for you to keep track of your coupons.
Begin Date/Expiration Date: Select specific dates for your coupon to be valid.
Max Number of Uses: Set a maximum number of times that your coupon can be used.
Discount Amount: Value of discount. In this example, this would be a percentage amount off of a customer's total order. 
Min Order Price: Set a minimum order amount to be reached before your coupon is valid. 
Max Order Price: Set a maximum order amount that can be reached before your discount will no longer be applied to the order. 
Once you have entered in the options for your coupon, click create coupon.
Coupons that require specific items will have steps that allow you to choose either groups of items within a category, or specific item(s).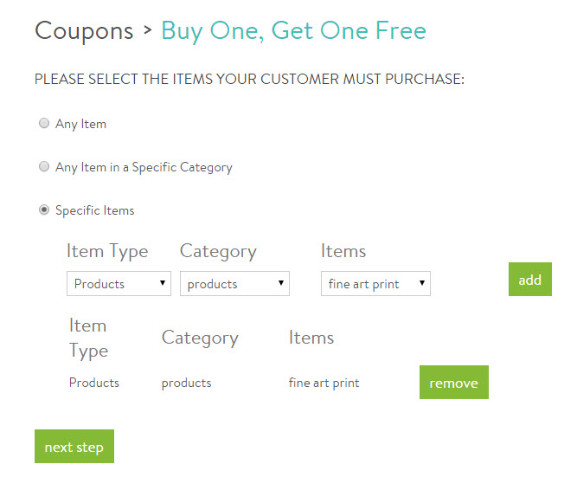 You can choose the add button to add additional items with the diccount or choose remove to delete the items selected.