Information Pages are used to convey text and/or images to your site's visitors. Information Pages can be used to provide information about Pricing, Services, or literally any other type of text. Let's look at how to set up Information Pages within your Builder.
If you don't already have an Info page on your Site Builder, go to your Builder and click on Web Pages, then go to New Page and click on Information. This will add the page to the bottom of the list as "Extra Information". You can update the page name using the pencil icon. 

The Content section allows you to add text to your Information Page. The Page Text Content area allows you to enter all of the text that you want to be on the page for visitors to your website to read. You can also toggle to from the "Visual" tab to the "HTML" tab to embed widgets or other types of HTML code into your Information page. If you're not handy with code, you can use the text editing tools on the Visual tab to format your text.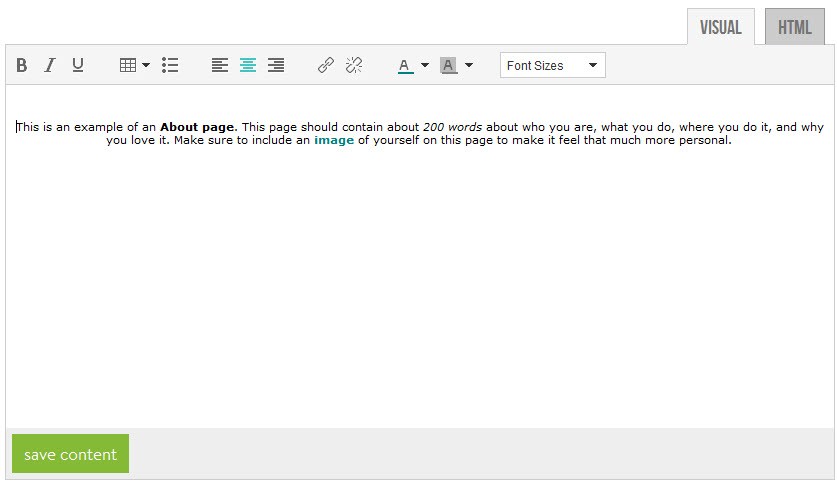 Note: Pasting text from Microsoft Word or similar word processing programs can sometimes cause hidden formatting characters to appear within your text. These characters can cause unexpected issues with the way your text displays on your website. For that reason, we recommend using Notepad or TextEdit to compose your text if you prefer not to type directly into the Text Content box. If you have formatted text in Word, we recommend copying and pasting it into a program like Notepad or TextEdit and then copying and pasting the text into the Content area, as this will strip the extra formatting from the text.
Once you have finished adding your Content to your Information Page, simply click the Save Content button at the bottom of the screen to ensure that your changes are updated and saved on your site.
The Images section is where you can add images to accompany your text content on your Information page. You have the ability to Upload Images, or Insert Images from the Clipboard. 

After your image is uploaded to the page, it is automatically saved and your Information page will be complete!