When you're selling Fine Art images online, there are two ways set up your E-Commerce site. The method you choose will depend on the way you'd like to make your images available for sale.
If your pricing and/or sizes available vary per image, you will need to create a separate product for each image you want to sell. This allows you to control the sizes and prices available for each individual image. Another reason to use this method is if you'd like the opportunity to explain and describe each image to the viewer. Sometimes having a story attached to an image can entice people to buy.
Utilizing this method will produce a buying experience similar to the one shown below: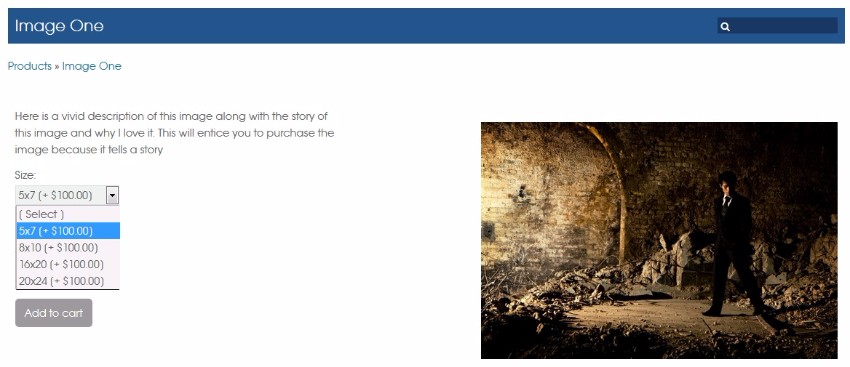 Follow the instructions below to use this method of selling fine art images as products:
First, adjust your settings in E-Commerce so that the price is hidden until greater than $0. To access this, hover over settings and click on general. Make sure to click save changes after you've made your selection.

After this is complete, hover over sell online and click on products. Click on new product. 
Enter the name of image and description and enter the price as 0 (don't worry, we will add pricing later). Make your other selections on this page and click on create product.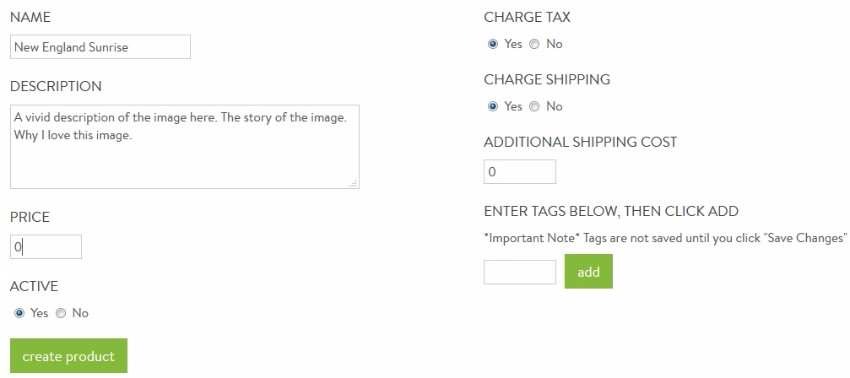 After the product is created, upload the image in the Images tab.
Now for the pricing. Click on the Options tab and create a new option for "Size" and create a new sub-option for each size and enter the price for that size as additional price. When you have your options added, they should look something like this: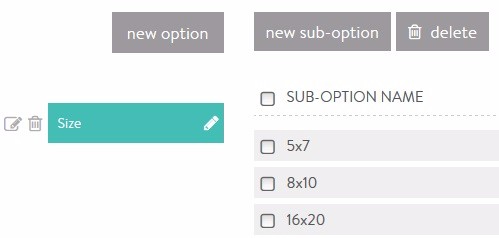 You can also add options for medium (canvas, glass, metal prints), frames, etc. if applicable.
After you've created product for the first image, you'll use this product as a template to create your other products. By creating a copy and updating the name, image, and prices of options, you will save time by not having to create the same or similar options over and over again, you'll just have to update what changes for that particular image.
Click here to learn more about copying a product
If you have a set list of sizes and prices available for all images, it will be better for you to set up events instead. Click here to learn more.