Your website's meta data is information you can enter in the back end of your site to help Google with how to index you. It helps Google to put you in the correct category or categories for search. 
In your Builder site, all meta data for your website is entered on the individual pages. We recommended adding your general meta data that would apply to your entire site on the home page, and more specific meta data on each individual page. Do not enter identical meta data on each page, as Google sees this as duplicate content.
To get started with adding meta data, first click on the Builder icon and then on the web pages tab. Click on the name of the page you'd like to add meta data to. If you're just starting out adding meta data, it is a good idea to start with your Home page.
Click on the SEO icon at the top right of the page: 

From there, you'll see auto-generated meta data that comes from the auto seo page name located in settings and text pulled from the content area of that page.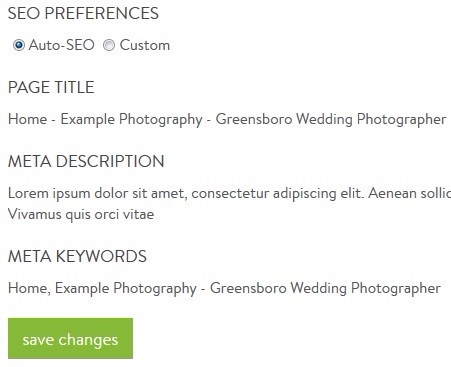 We recommend changing your SEO Preferences to Custom rather than Auto SEO. To do so, select the radio button next to Custom and you'll see these sections open up into fields you can type into. Enter your meta data for each section then click on save changes.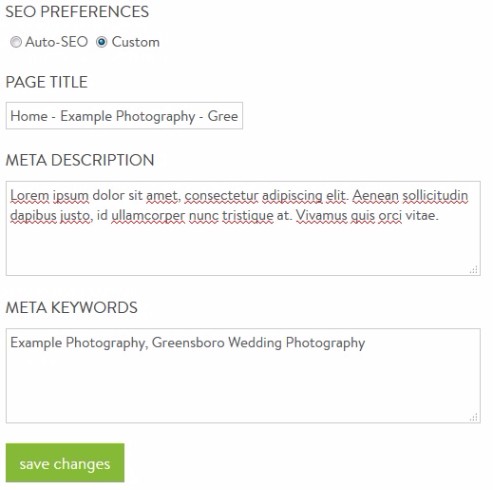 For assistance on what to enter into these fields, take a look at our Growth Hub articles on SEO:
How to Use Page Titles and Meta Descriptions to Get More Search Traffic
How to Do Simple Keyword Research for SEO
All our SEO articles in the Growth Hub can be found here.
If you'd like more hands-on support with SEO, you can call our Support Team with specific questions.
We also offer our SEO GO service if you want us to do it for you.