When a customer first accesses a proofing event they see a cover page. By default, the image displayed in the background is the first image from the event. You can change this image and opt not to display an image on the cover at all.
After you open your event from the proofing control panel, click on cover page to access the settings for this page. There is a section for cover image settings.
You can change the image by selecting custom image. You then have the option to upload an image or select an image from the clipboard. We recommend using a horizontal image as it will fit the width of the image to the width of the users screen. The max image size is 3000x1730 pixels. (Tip: After you select the image to upload, there is a separate upload button.)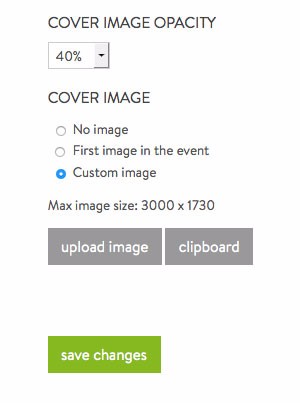 In addition to changing the image, you can change the cover image opacity. By default it is 40%. Tip: If you want the image to display in original opacity, select 0%.
If you do not want an image to appear on the cover page, select no image. 
After you change the cover image, click save changes.