In order to make it simple for your clients to access the Proofing page, it is recommended that you add a link to your main website to your Proofing page. To do this, the first thing you'll need to do is get your Proofing page link. Click on the Proofing icon at the top of your control panel then click on view site. This will open your proofing page in a new window. Highlight and copy the address in the address bar in the new window. The URL will be your domain name followed by /proofing.
Once you have your link copied, go to your main website by clicking on either Portfolio or Builder. From there, click on web pages then click on the new page drop down menu and select the option for external link page. This will add a page called Extra External Link to the bottom of your list of pages. You can move this page to the position you prefer by dragging and dropping the page in the left menu bar. On the right hand side of the page, there will be a form for you to enter information into.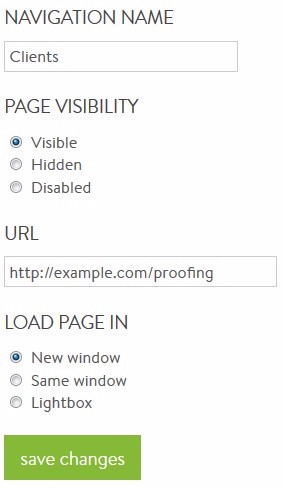 The Navigation Name is the name that will appear in the menu for this link. We recommend using "Clients" or "Client Login" or "Proofing". Make sure the Page Visibility is set to Visible. You will enter the copied link into the URL field. We recommend setting load page in to new window. After all this information has been entered, click on save changes.
If you're using the Porfolio site, make sure to go to publish and click on publish now to make these changes live.