You can add a watermark to your proofing event images. To edit the watermark, access the proofing control panel and click on settings.
By default the watermark is a copyright icon with a 50% transparency, and it displays on the large view of the images.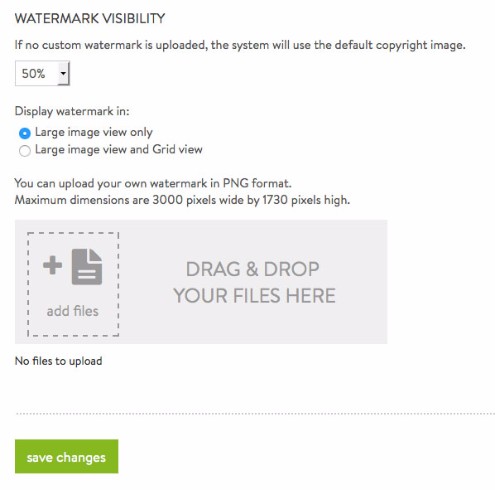 You can change the watermark transparency using the drop down menu. If you set it to 0% the watermark will not display. 
Then you can choose where to display the watermark. By default it displays on the large view of the images. You can also turn the watermark on for the grid view of images.
You can upload your logo as a PNG with a transparent background up to 3000x1730 pixels. Click add files or drag and drop your logo to the area indicated.
After you make changes to the watermark visibility, click save changes.
Tip: The watermark will display in the center of the image. To control the exact location the watermark displays, create a file in photoshop or another photo editing software that is 3000x1730 pixels with a transparent background and place your logo in the desired location. Save the file as a PNG and upload it as your watermark.
You can also turn your watermark on or off on a specific event if needed. Click here for instructions on how to do so.