Absolutely! Utilizing sub-sites is a great way to separate different portions of your business to make it easier for your potential clients to access the information that is relevant to them. For example, if you are a photographer and you specialize in both family portraits, weddings, and seniors, it could be a good idea for your main website to have your family portrait information plus a sub-site for weddings and a sub-site for seniors, since both of these are more niche markets with differing needs.
Sub-sites will always be sub-domains to your main domain. Using the example above, the main family portraits site would be examplephotography.com, with two sub-sites: weddings.examplephotography.com and seniors.examplephotography.com. 
To add a sub-site, first click on the Portfolio icon. At the top left, there is a dropdown menu box that contains your domain name. Click on the dropdown menu to open it. 
From there, click on *** add additional website *** and you will be taken to a page where you can purchase an additional Portfolio Site.

Alternatively, you can click on the extras tab and you will be brought to the same page to purchase an additional site.
After you purchase your sub-site, you can set it up just like you did your first Portfolio Site. To access your sub-site, you'll go to the Portfolio icon and open the same dropdown menu at the top left as you did to add the sub-site, and you'll see your additional site listed there. Click on the name of the site to access the control panel for your sub-site.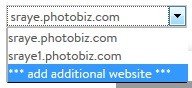 By default, when you first purchase your sub-site, the sub-domain name will be your name with a number attached to it. To change the sub-domain name, click on the menu icon at the top right corner of the control panel and then click on domains. From there, you'll have a list of your products. Click on the name of the sub-domain and a text box will appear where you can type in the sub-domain name. For example, to set up "weddings.example.com," you would simply type in "weddings" into the text box provided.
Once you've entered the sub-domain name, click on the update sub-domain name button to save your changes.

Tip: When utilizing sub-sites, it is a good idea to have a Splash Intro Page set up on your main site to help potential clients access the website that aligns with their needs.