Add a background to your entire website under the DESIGN tab in your control panel. Your background applies to the site itself, not your content areas.
Note: Site backgrounds do not apply to full-screen templates.
CUSTOMIZE THE WEBSITE BACKGROUND
You can customize your website background to show: no background, a custom background, or a background from the background library.
The background library is organized in seven different style categories: Geometric, Pattern, Organic, Minimal, Transparent, Lifestyle, Dark.
Click the drop-down menu to view the background images within a particular category.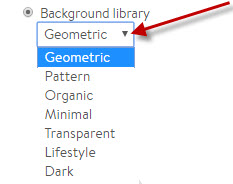 Click on the design to select a background image.

Next, adjust the background settings. You can apply your background to tile, sit in the top left, center on the site, or cover the entire site.
Save changes to update your website background.