If you're having trouble with your website images being zoomed in on Google Chrome**, here are the steps you'll want to take to correct it.
General instructions specific to Safari are found at the bottom of this article.
1. Check for Chrome update and make sure you're on the latest version
If you need help updating Chrome, here's their step by step guide. If you need to update your version of Chrome, be sure to restart Chrome before continuing to step 2.
At the top right of your browser, you'll be able to access your settings to Google Chrome. You can also access these by typing "chrome://settings" into your address bar.

Pro Tip: You can skip directly to Step 5 by typing "chrome://settings/content/zoomLevels" into your Chrome address bar
3. Access Advanced Settings
Located inside the settings of your Google Chrome, you'll see an option at the bottom of your settings for "ADVANCED". 
There's a container in your Advanced settings for "PRIVACY AND SECURITY" and you'll see a section for "SITE SETTINGS".
Step 5. Access Zoom Levels
Once you've access your "Site Settings" you may need to scroll down but you'll see an option for "Zoom Levels."
Step 6. Remove Zoomed Website From List
You will remove any of the websites located in the page by clicking on the X.
Once you've made sure to update Chrome to the latest version and removed the links from your Zoom levels and restarted Google Chrome, your website will load normally.
If you're still having trouble with this, please give our Web Consultants a call 866.463.7620 and we'll help you troubleshoot this further.
**this article is accurate as of 11/22/2019 and based on Google Chrome Version(Official Build) (64-bit)
In the Safari app on your Mac, select Safari and navigate to Preferences, click Websites, then click Page Zoom.
Select all websites listed under Configured Websites (to select several websites at once, press and hold the Shift or Command key as you click), then click Remove to clear the list.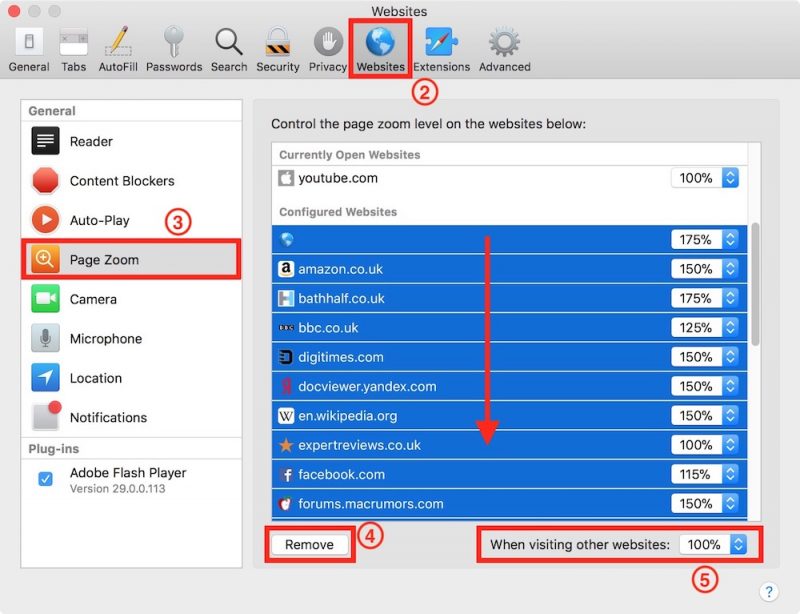 Please Note: These instructions may vary depending on your version of Safari and MacOs.