Add a video to your webpage to give movement to your website.
After your video has been uploaded to YouTube or Vimeo, add it to your website for easy viewing.
Embed Code: Paste the embed code provided by YouTube or Vimeo in the Embed Code box.

Title/Description: Add a Title and Description for your Video Item.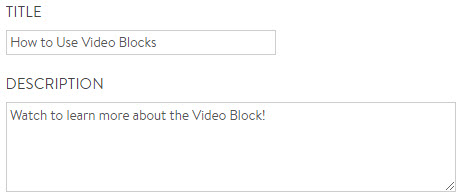 Mobile Cover Image: Upload a mobile cover image to display on mobile devices before a user clicks to play your video. If no cover image is uploaded, only a "play" button will display. If you prefer a still from your video to display before clicking the "play" button, do not upload a cover image.
Note: You must add a mobile cover image if using the banner or full screen video layouts. 

Button Text: Add a button to display with your video and add a link to encourage users to take action.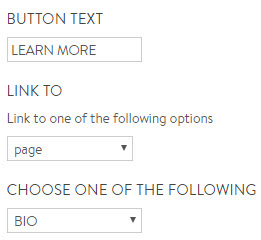 Link options include:
NONE: Your item would not link anywhere.
EXTERNAL LINK:  Direct your clients to helpful resources that exist in a place other than your website.
PAGE: Direct your visitors to an existing web page on your website.

FORM: Connect to a Custom Form you have created in your FORM BUILDER.

MARKETING: Direct users to a Campaign or Landing Page you have created in the MARKETING tool.

FILE: Allow users to open a PDF, JPG, PNG, or GIF file that has been uploaded to the DOCUMENTS area of your account's FILES section.

PHONE: Connecting your item to a phone number allows users to quickly click to call you.

EMAIL: Connecting your item to an email address opens a user's default mail client to easily send you an email.

ADDRESS: Allow users to find where you are by opening an address in Google Maps.

VIDEO: Add a video embed code obtained from YouTube or Vimeo to play in a light-box.

The Layout determines how your video is displayed on your website. Choose from standard, banner, or full screen layouts.

Standard: Your video will not be cropped and the play button appears over the video. 
Banner: Your video will be cropped to fit in the fixed height of the banner.
Full Screen: Your video will be minimally cropped to fill the screen edge-to-edge and top-to-bottom.
**Note: The Banner and Full Screen layouts require that your video have autoplay settings turned on. Follow the steps below to turn on autoplay for your Vimeo or YouTube video. 
Vimeo Autoplay 
If your video is hosted by Vimeo, click share on the video. Next to the Embed section, click show options.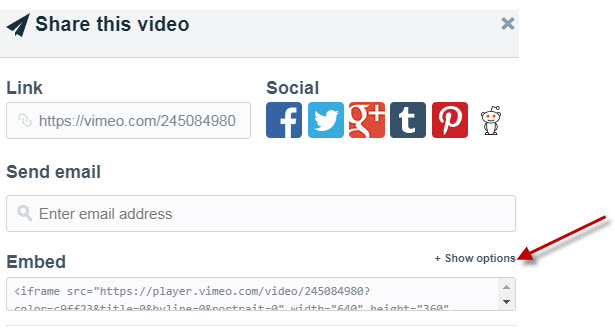 Under Special Stuff, click Autoplay this video. Check the box for autoplay.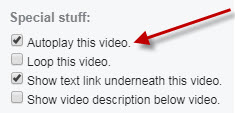 Copy the autoplay embed code and paste it into your Video block.
YouTube Autoplay
If your video is hosted by YouTube, you will need to manually add the autoplay code to your YouTube embed code.
Click share on the video and click embed. Copy the code and paste it into your Video block.
Your code will look like this:

To make your video autoplay, type ?mute=1&autoplay=1; right after the video's URL, before the ending quotation mark.
Your code will now look like this:

STYLING 
The Styling area allows you to customize the Overlay Opacity.
Overlay Opacity: The overlay opacity adjusts the transparency of the background behind your video's title, description, and button. You can increase the amount of transparency behind the video's information by lowering the overlay opacity's percentage.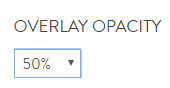 COLORS
The video color section will include six color options. These colors will override the colors for the videos and background that have been picked in the global color section under the DESIGN tab in your control panel.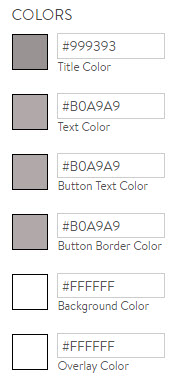 BACKGROUND
You can customize a background image behind your Video block to be different from your website. You can upload a custom background image or choose one from our Background Library.