Add a Form block to your footer to make it easy for your users to contact you or subscribe to receive updates from your business. 
You can choose which form to display under the FORM LIBRARY area. You can choose an existing form or create a new form by clicking on create form. The edit form button allows you to edit a form previously created. Click save changes to apply your selections.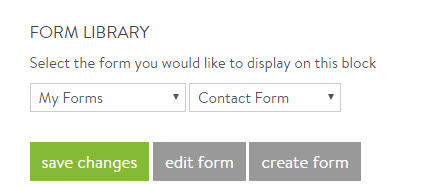 STYLING
The Styling area allows you to customize the space below and inside your Form block. These styling sections will override the settings that have been picked in the global styling section under DESIGN tab.

Space Below Blocks: Controls the amount of space before the next block begins.


Space Inside Blocks: Controls the amount of space at the top and bottom of a block.

COLORS
You may customize the colors of your Form block to be different from your global color selections. Click on the color box to change your colors. You may select from your accent colors or pick a new color. Press OK followed by save changes when you are happy with your color selection.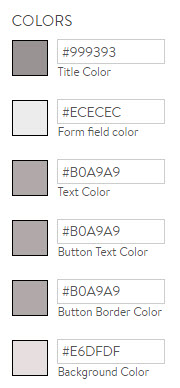 BACKGROUND
You can add a background image to display behind your Form block. You can upload your own custom background image or choose one from the Background Library. You can customize how the background image is displayed in the Background Settings.