After you have created a custom form using the Form Editor option in your account, you can add this to your Portfolio Site or Site Builder by using a Form Page.
First you will need to click on your website icon at the top of your control panel, either Portfolio or Builder.
Next choose Web Pages and add a new form page: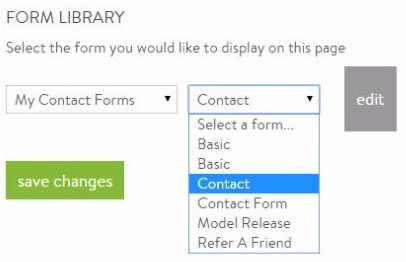 You can click on the pencil icon next to the words Extra Form to rename the page.
Next, you can choose which form you wish to use by selecting the form tab at the top in your Portfolio, or scrolling down to the Form Library section in the Site Buildedr.
Choose your created form under your Form Library.
Click on Save Changes to keep your modifications.
*For HTML5 portfolio site you will need to republish the website by clicking on Publish and then publish now to make this reflect on your live website.
For more tips on setting up a perfect Contact page, click here.