You have the ability to set up custom options for your the products you sell online. This can include colors, styles, sizes, and more.
From your Ecommerce control panel, mouse over sell online and select products.
Click on a product name to open its settings, then click the options tab.

Click on the new option button. You will be prompted to enter the option name, which serves as the category label for the options you want customers to select from. For example, colors, sizes, or styles. Note: Do not enter the option choices in this area. The actual colors, sizes, or styles are entered as sub-options. 
Here you can also make an option required for your client to select. For example, if you need to know the size of a t-shirt you want to require that they select from those options before adding the product to their cart.
Once you enter a name, click add option to continue.

Next up is creating sub-options, by clicking the new sub-option button.

Now you can enter your sub-options under the field for sub-option name. You can also enter an additional prices for the sub-options, if needed. If the option is colors, the sub-options is where you enter black, white, green, blue, etc. each as separate sub-options.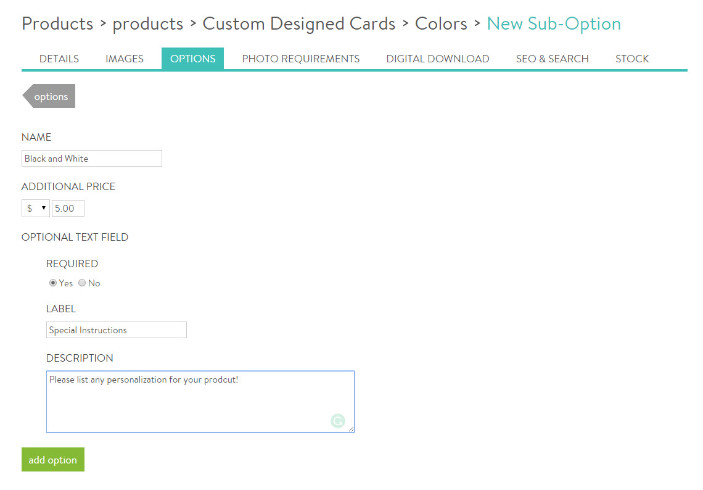 The optional text field will give your client the ability to provide special instuctions when they place the order such as personalization. To enable this set the Required field to yes and enter in a label such as special instructions. Enter a description to prompt your customer to enter in the requested information.
 To save your information, choose add option at the bottom. You can repeat as needed to add all selections.