Using the PhotoBiz Store, your customers have the ability to create an account and save items to their cart for future purchases. After they log into their account their favorited images, prints, products, packages, and/or services are automatically saved to their cart.
You also have the ability to view your customer's saved cart from our Ecommerce control panel.
From Ecommerce, mouse over tracking, choose Saved Carts, then click on your customer's name.

Once you select a customer, you will be able to see their name, email, the date the cart was created, the last date the cart was modified, as well as the total price of the items in their cart.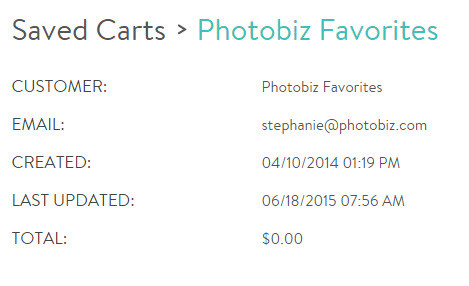 Are you on the go? You can see your customer's saved carts with the PhotoBiz ToGo App on your mobile device. Click here to find out how.
Note: Customers must create an account in order for any favorite images or items to be saved to their cart.