A convenient use of the contacts feature is that it keeps all the invoices from a specific customer all in one place. 
To view these past invoices, first access the contact by clicking on the Contact icon then the contacts tab.
After you've selected a specific contact, click on the E-Commerce tab. From there, change the report type to Invoices then click on search.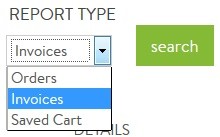 After you search, you'll see a list of invoices for that specific customer.

From there, you can click on an invoice number to see the invoice details. You can view the payment history, resend invoice, and print the invoice.