A marquee plus page is your Builder's default home page. It is a page that has lots of different options and can display lots of information in a very organized way. It is a great page type to use for landing pages as well as home pages. There are three major pieces to your marquee plus page: a banner, text, and list items.
Typically, a home page is set up with a banner that displays the breadth of your work (no more than 7-10 images), then text that is a brief but powerful introduction to your website, and list items that link to pages on your site you want to make sure visitors look at. An example of such a home page is below:
In order to set up a marquee plus page, first access the Builder icon and click on web pages. From there, either click on your Home page or add a marquee plus page if needed using the new page button.
There are a few different components to the gallery page: layout, page title, banner images, content, list items, and html.
The layout section allows you to choose a layout for your page. Choosing a layout here is choosing the layout for your list items. All these layouts will have the banner across the top, the text below the banner, and the list items at the bottom. You can choose how you'd like those list items to display.
The page title section allows you to change the title of the page that will show at the top of the page. This does not change what the page is labeled as in the menu.
The banner images section allows you to add images to your banner, either uploaded from your computer or inserted from the clipboard.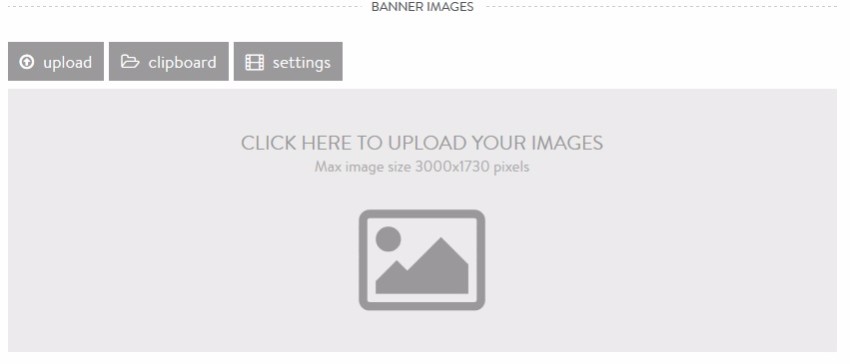 There are many options for customizing your banner. Click here for more information regarding your customization options.
The content section allows you to add some text that will show under the title, but above the images on your gallery page. On your home page, it is best to have a few sentences introducing your business and your website. It is a good idea to include your business name, your main product/service offering, and your location. 
The list items section gives you the opportunity to add "buttons" at the bottom of your home page to link your viewers either to other pages on your website or outside links (i.e. your Facebook or Blog).
For more information on how to set up a list item, click here.
At the bottom of the page, you can add some HTML code if needed. This is a good place to embed a video or a map if needed. Note: Code added to the HTML section will not appear on the mobile site.