There are a variety of tools you can use to allow your blog readers to subscribe by email, including Google Feedburner. This type of tool will send your subscribers an email every time you post on your Blog so they never miss a new post. This is also a great way to build your email list for lead generation.
After you set up an account with one of these tools, you can use a blog widget to embed a sign up form. Keep in mind when you're creating this subscription tool, you'll need to provide your RSS Feed Link. If you need help locating your RSS Feed Link, click here.
To set up a blog widget, go to the Site Builder, select your Blog page and add a new widget. 
Choose HTML as the widget type, title your widget, and paste the embed code for the sign up form in the HTML content area. You can even control the height of the widget.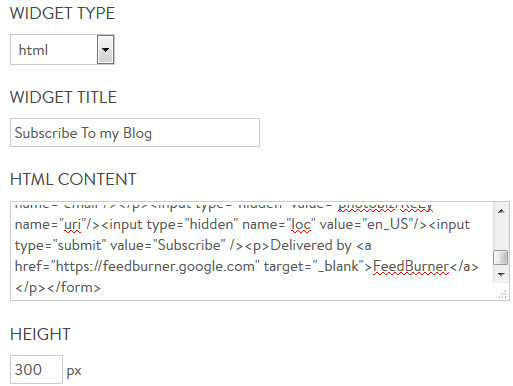 When you are finished entering the widget information, click save changes.
Note: Make sure to set up an RSS driven email campaign in the tool you choose to use as well.