In your Builder, there are some labels (for the Blog and eCommerce components) that are on your website by default. If you need to change the language of those labels to match the rest of your website, you can do so.
Click on your Builder icon and then hover over settings and click on language. From there, you will see a drop down menu for choose a language. 
Open the drop down menu and choose either English or Espanol.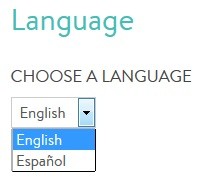 After you've made your selection, click on save changes at the bottom of the page.