You can update your password from by logging into your PhotoBiz account through http://photobiz.com/login or you can update your password from your mobile device with the free PhotoBiz To Go App (Apple or Android).
Update Your Password From Your PhotoBiz Account
To update the password for your account, click on the menu icon in the top right corner and select Account, then mouse over Account Details, and select Login Info.
You can then type out a new password, and click Update Information.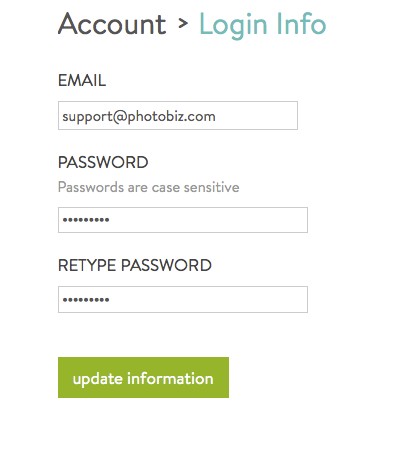 You are required to type your password twice to confirm it, and passwords are case sensitive.
Update Your Password via PhotoBiz To Go App

1.  Download PhotoBiz To Go and install on your mobile device
Apple Devices: PhotoBiz To Go on iTunes
Android Devices: PhotoBiz To Go on Google Play

2.  Log into your PhotoBiz account via PhotoBiz To Go App
3.  Click on the My Account icon
4.  Enter your new password in the Password and Retype Password fields 
5.  Tap the SAVE button 
NOTE: Passwords are Case Sensitive