RSS (Really Simple Syndication) is a family of web feed formats used to publish frequently updated works—such as blog entries, news headlines, audio, and video—in a standardized format. With the RSS Feed Page in the Builder, you can now feed your Blog, Twitter, and other Feeds into your Site Builder. The PhotoBiz Site Builder's RSS Feed Page allows you to seamlessly integrate any existing RSS feed.
First, click on your Builder icon then click on Web Pages. 
A page called "Extra RSS Feed" will be added to the bottom of your list of pages. Use the drag and drop feature to move the page into the position you'd prefer. You can also click on the pencil icon to update the page name.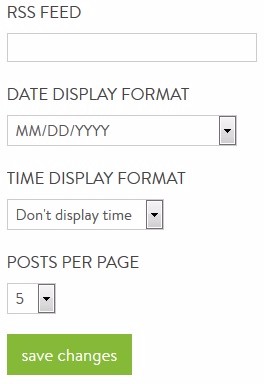 On the RSS Feed Page, you can enter the feed link in the RSS Feed field, choose your preferred date display format and time display format. You can also select the number of posts per page you want to show. 
When you're entered your preferences, click on save changes.