One of the many great customization features of your PhotoBiz account is the ability to choose from many background images to use from our Background Library. Our library has lots of different options, including geometric, grunge, and organic patterns as well as textured backgrounds and backgrounds with transparent elements that allow a color of your choice to show through.
To select one of these backgrounds for your website, you'll need to begin by accessing your website by clicking on either Portfolio or Builder. 
From there, hover over design and click on site background. This will bring you to your three background options: No background, custom background, and background library. Select the radio button for Background Library.
Now you can choose from the drop down menu one of the following background categories: geometric patterns, grunge, organic, textures, and transparent. Browse the backgrounds and choose your favorite by clicking on it. Your background selection should now have a teal/blue box border instead of the light grey box border.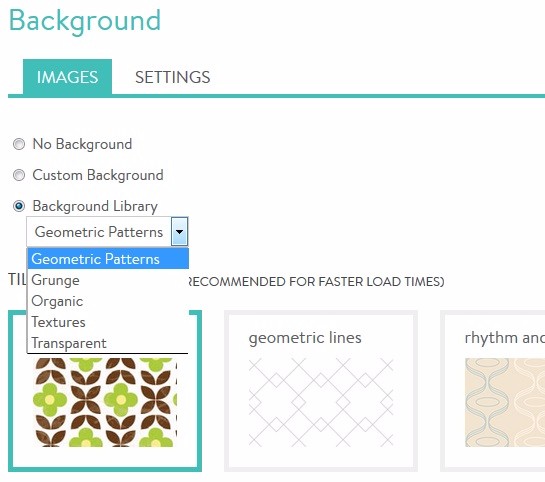 Scroll down to the bottom of the page and click on save changes. 
If you're using the Portfolio, make sure to go to publish and click on publish now to apply your changes to your live site.