A great way to customize your Splash Intro page is to use a patterned background. To take a look at your background choices and make your selection, first click on the Portfolio icon and then click on the Splash Intro tab. From there, click on backround and you will see three options: no background, custom background, and background library. 
Select the radio button next to background library. A drop down menu will appear with five different categories of backgrounds: geometric, grunge, organic, textures, and transparent.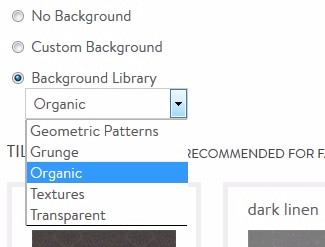 Select the background you'd like to use by clicking on the image, then click on save changes. 
When you're ready for the background to be live, click on publish and then publish now.