List pages are great to use when you're displaying lots of information that you'd like to appear on one page, but still have each bit of information separated. Typically, you would have to use a table and lots of coding and formatting to do this, but our list page makes it super easy to display information like this without having to know how to write code. List pages are most often used for testimonials/raves pages, services pages, and resource/links pages (ie, a "preferred vendors" page). Each "item" you add to the page has its own title and description, as well as the ability to add a link to a specific URL and an image.
To add a new list page to your website, start by clicking on the Portfolio icon at the top of your control panel and click on the Web Pages tab. 
Next, click on new page and select list page. This page will be added to the bottom of your list of pages as "Extra List". You can drag and drop the page using the Extra List button to place it where you'd like it to appear in your menu.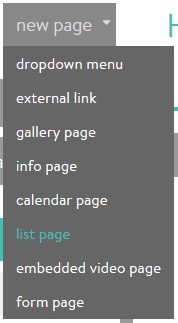 When your new page is positioned where you'd like it to be in the menu, you can start setting up your page. You will see multiple tabs to help you with adjusting the different settings of your list page.

List Items: This is where you will add the individual items for the page. To do so, click on new item and complete the form provided. For more information on setting up a list item, click here.
Page Details: This is where you have the option to rename your page, as well as control the page visibility and access the direct page link. The navigation name is the name that will appear in the menu for this page, and the page name controls the title of the page that will show above the text. These names can be the same or different. Generally, the navigation name will be shorter.
Layout: There are multiple layouts available on a list page. The default layout is Left, this is a standard layout that displays your list item images very small with the text information to the right of the image. The other layouts are more modern. Flush 3, Pinboard Flush and Square Flush show larger images, but do not display the text until the user mouses over the image. The pinboard and square layouts show the images and the text with the same larger images. 
SEO: This section allows you to add page-specific SEO information.
Note: Do not copy and paste the same title, description, and keywords for each page. This is considered duplicate content.
When you've completed your page and you're ready to apply the changes to your live website, make sure to go to publish and click on publish now.