When you create an event in your E-Commerce, you have the ability to modify the display of the event. To begin editing your event display, mouse over events and click preferences.
The event preferences area is a global settings area for your events. You can also modify event settings in each individual events as well. There are several display options to choose from.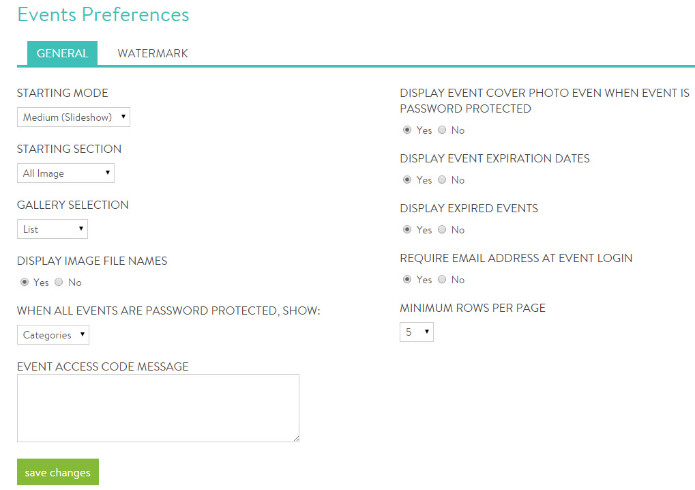 The first option is to edit your event starting mode. This allows you to select the viewing mode that you would prefer your customers view their images in when they first access their event. You can select from either:
Grid: Display your images in a thumbnail grid. Customers can click on an image to see it larger and view purchasing options.
Medium (slideshow): Displays images in a medium view, while also offering purchasing options within the same view.
Starting Section: Select whether customers start viewing all their images within the All Images section or within the Featured images section when they first access their event. You are able to designate which images are featured within the event gallery section.
Gallery Selection: Select whether you would like for your customers to select their galleries through either a list or a dropdown menu. *The gallery selection only applies if you have multiple galleries within an event such as ceremony, reception, etc.
Display Image File Names: Select whether you would like to display the image file names for the event images within your event gallery.
When all events are password protected show: Select whether you would like to display your categories, events, or if you would like your client to see a log-in screen.
Event Access code Message: Customize the message your client will view prior to logging into their event.
Display Event Cover Photo even when Event is password protected: Choose whether you want your client to view a cover image before logging into their event. If set to no, the client will see the event name without a cover image.
Display Event Expiration Dates: Choose whether you want the expiration dates of your events to be visible for your clients. 
Display Expired Events: Choose whether you want your clients to be able to view expired events. This is helpful if using an event renewal option.
Require Email Address at Event Login: Choose whether or not you want your clients to provide an email address when accessing the event. If your event does not require a password clients need to enter a valid email before accessing their images. 
Minimum Rows Per Page: Select a minimum number of rows of thumbnail images to display per page within the grid view mode before a new page will be added (meaning page numbers will show to access more images).
After making any modifications to your event preferences, click save changes at the bottom of the page.