Setting up event renewals in your ecommerce is a great option to allow customers to continue to purchase even if their event has expired. Once your customer's event has expired, they can be presented with the option of purchasing an extension to the expiration date. You choose the amount they pay to reactivate the event. Once payment has been confirmed, the event is reopened to allow your customer to purchase.
To set up event renewals, mouse over events in your ecommerce control panel and click renewals.
Next click the new renewal option button. You will be prompted to enter in the number of days for the extension period, as well as the fee required for your customer to renew the event. You also have the option to apply tax to the renewal fee. Finally, click add renewal option.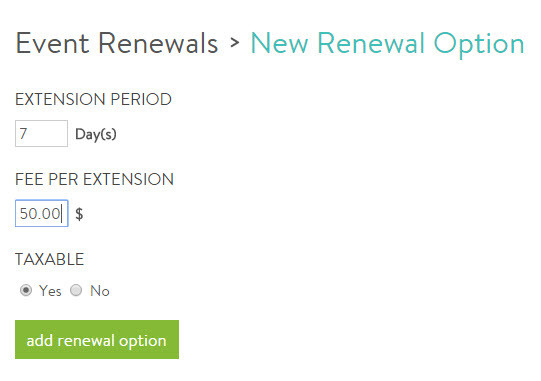 Renewal options can vary by price list, therefore you can create multiple renewal options and assign different ones to different price lists.